This article details the information displayed on the summarized notification sent to Non-Subscribed Recipients. It covers:
1. Communicating with Non-Subscribed Recipients
A Non-subscribed recipient is a trading partner who is not subscribed to this service.
Non-Subscribed Recipients which have been added to a Live notification will receive an email containing a link to a summarized notification.
You can view what these notifications will look like from the automatic emails sent to you when you submit a notification for approval and when you make a notification live.
Information on which Non-Subscribed Recipients have accessed your notification will update in real time on your notification's Progress Report.
Also see Adding Non-Subscribed Recipients.
2. Fields displayed on the Notification
This section displays an example notification and details which fields in the notification creation wizard are displayed in notifications sent to Non-Subscribed recipients.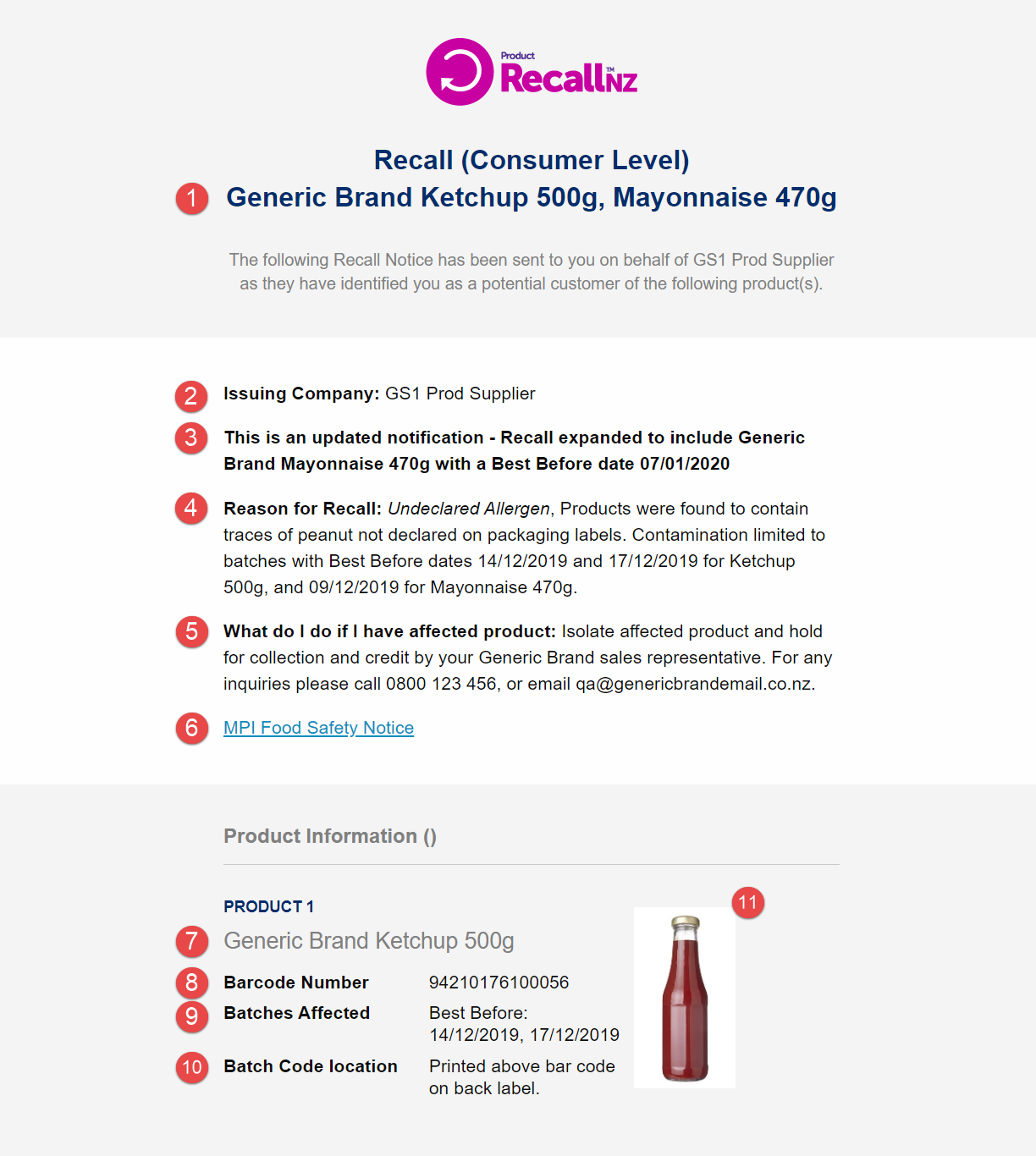 Number. Menu in wizard ⟶ Field(s)
1. Details ⟶ Classification + Notification Title
This is also the subject of the Email Alert.
2. Organization Name registered on ProductRecallNZ
3. Details ⟶ Reason for Update
4. Details ⟶ Primary Reason for Notification + Additional Information Regarding Reason for Notification
5. Instructions ⟶ Instructions for Non-Subscribed Recipients
This is a free-text field intended for all instructions and additional information to Non-Subscribed Recipients, e.g. holding and reimbursement instructions, contact details, etc.
6. Instructions ⟶ Link to MPI Safety Notice for Non-subscribed Recipients
Intended for Point of Sale notice that you wish to be displayed. Best practice is to link to Point of Sale notice hosted on your own website.
7. Products ⟶ Product Name
Only the 'Product Name' field is displayed (Not 'Brand'). Best practice is to include Brand Name and Size in this field to ensure clarity.
8. Products ⟶ GTIN
9. Products ⟶ Tracking Code Type + Tracking Code
10. Products ⟶ Location on Package
11. Products ⟶ Products Image
3. FAQ
What do Notifications to Subscribed Recipients look like?
Notifications sent to Subscribed Recipients will look identical to what your Notification looks like to you, excluding any information to regulators or information for specific organisations (e.g. information entered into the 'Additional Information' menu).
For instructions on how to view your Notification and download it as a PDF, click here.
Can a Non-Subscribed Recipient reply to my notification?
Unlike Subscribed Recipients, Non-Subscribed Recipients cannot log into the service and cannot reply directly to your notification. This is why it is important to include any contact information you would like to share in the Instructions for Non-Subscribed Recipients section of your notification.
Version 1.0 10 January 2020