To support multiple initiatives across Foodstuffs' business including New World Online, Labeling, Food Star Ratings and Customer Analytics, they require a richer and more consistent information set across their article range. Previously Foodstuffs needed around 100 data elements for each product - now they require ~200 pieces of product information, where they are applicable to your product.
1. What do I have to do, and when?
Foodstuffs' new requirements are defined here
For new products or product changes:
Use ProductFlow as you normally would. If you send us your final product for photography or barcode verification, we can capture a large amount of Foodstuffs' expanded data for you. We will store in our label database, then we'll be able to port this info. across to your NPC (with your agreement - excludes middleware & integrated suppliers).
If you don't yet have your final product, you can still enter this expanded data directly into NPC if you choose.
Remember, in ProductFlow you can tick the option

and GS1 will enter your product data for you (for a $40 charge - unfortunately we cannot do this for suppliers who use a 'middleware' software like Innovit or Bizcaps).
For already-ranged products with Foodstuffs:
GS1 currently holds 35,000+ "nutritional" records for your products in one of our databases. We may have your products so ask us and we may be able to transfer this data across to NPC for you.
After we have ported you can then assess which products have a data gap, and can load the extra information for those products, if you choose. If you need assistance GS1 can deploy staff to help you work through this load either onsite or remotely (T&M charges would apply).
2. How would I enter this data myself?
For users of the NPC Publisher interface, we are able to "reveal" the attributes Foodstuffs are after in your catalogue. If you would like us to do this please let us know (0800 10 23 56). Most of the new attributes will reside in the below "Food, Beverage, Tobacco" menu. A user guide can be found here.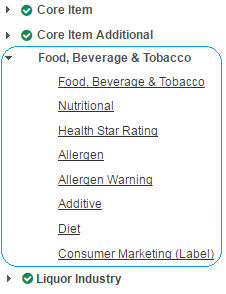 3. What if I use a middleware software or have integrated my system to NPC?
GS1 will be working with your middleware vendor to help explain the new fields for Foodstuffs and work with them to be available for you.
4. What will happen in ProductFlow?
Keep using ProductFlow as you normally would. GS1 will advise you if your product data is missing these new requirements we would bring this to your attention and you'll have an opportunity to enter them. If you chose not to resolve this we would 'fail' the data component for that product.
Version 1.2 - Updated 7th Feb 2020