ProductVault is the area in your MyGS1 account where details of your products are stored, along with their barcode number (GTIN).

When you enter details of a new product, ProductVault allocates the next available GTIN from the range of numbers licensed to your company.
Data can be entered online, or, if you have a large quantity of data, by spreadsheet (bulk upload).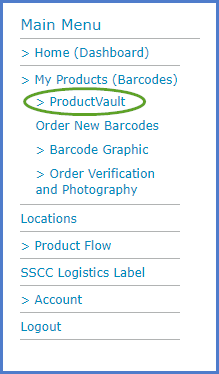 Entered details can also be viewed and updated - just click on the 'nnn products' under the Products heading.
See article 'ProductVault - How To Allocate Barcode Numbers To Your Products' for more detail.
V1.0 created 5 June, 2020