Foodstuffs has recently gone live with a new consolidated master data platform. There are currently several standard NPC processes that aren't yet fully supported by their new system. We are working through this with Foodstuffs, but for the meantime, please be aware of the below specific issues and workarounds that Foodstuffs has in place.
If you have queries on any of the below, please feel free to call our Support Team on 0800 10 23 56
Foodstuffs' intended point-of-sale selling unit must be loaded as the lowest level of the packaging hierarchy e.g. think of a bottle of beer that comes in a 6-pack, and 24 pack shipper. If the bottle itself is never "sold" at a Foodstuffs POS, they don't want to see the bottle as part of the hierarchy.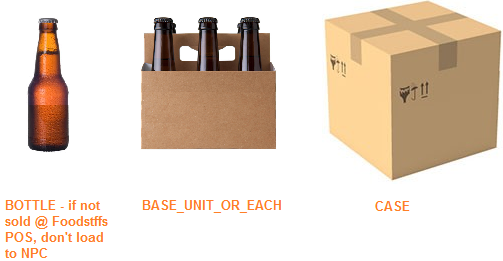 2. Bulk Bin products sold in a fixed-unit shipper need to have a 'dummy' GTIN number created and as the BASE_UNIT, marked as a variable unit with a leading 9 identifier. Foodstuffs system will currently reject any items sold as variable, but ordered as fixed weight.

3. Foodstuffs' system struggles with multiple CASEs for the same BASE, e.g. an item which can be supplied in a case of 6 or a case of 12. If you have to load in this manner, please contact the Foodstuffs NatPIM team and advise them. They can then apply a workaround to set up two articles in their system (0800 555 985 or natpim@foodstuffs-si.co.nz)

4. If Foodstuffs sell a unit of your product individually after a packaging breakage, load that unit to NPC per below. Load the unit only and create a price entry for it of $0.01. This will allow Foodstuffs to sell it if they need to.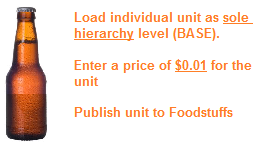 5. Foodstuffs have difficulty linking a single case to many base articles. For example, assortments, display shippers and mixed modules. Please set these up as below (i.e. the CASE or DISPLAY_SHIPPER with it's individual units linked into it) -- however Foodstuffs have asked that you advise their National PIM team that you have submitted such an article. They will undertake a manual action on their end to ensure it flows through to them appropriately.
Advise Foodstuffs' national team via 0800 555 985 or natpim@foodstuffs-si.co.nz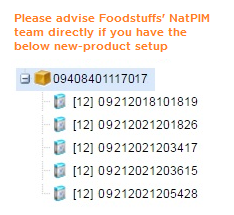 6. For any New Product Introduction, please ensure that your Price Effective Start Date is a date in past, or the date of processing (today) the price. For Price Changes ensure you add the price for the date when the price change takes effect.
Version 1.2 - Updated 28th March 2023