Step 1: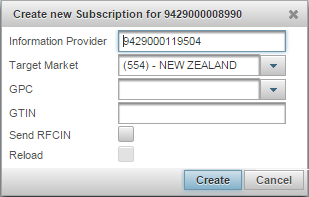 To receive product and pricing information from a supplier, they must have first published to you, and you must then subscribe to their catalogue (note, GS1 must mark the supplier as 'cleansed' (see step 3) before you receive the actual message flow).
Step 2:
In the "Published Supplier List" menu, select the supplier you wish to subscribe to, then click 


On the resulting screen, click 'Create':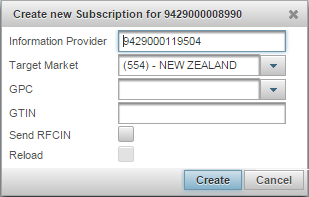 Note, typically you would subscribe to the whole GLN (i.e. simply leave GPC and GTIN blank).
The supplier will then appear in your "Subscription List" with accompanying 'status'. Once processed messages to flow through to you as a data recipient.

Step 3:
* Important Note - Please then contact the National Product Catalogue support team who will mark the supplier as 'Cleansed' in order for their data to flow through to the recipient. This step can only be performed by GS1 currently.
 Once consent or request from Recipient is received to include a subscribed supplier GLN in cleansed list. Action as below:
Created  November 2016                                                           Last Review:  5/12/2018