In National Product Catalogue, when a product is published for the first time to Foodstuffs it must have it's List Price loaded.
Please ensure you follow these guidelines:
For all "new product introductions"

Foodstuffs requires the List

Price's

Start Date

to be the present time, or earlier when they receive your product data after you publish via NPC.
The pricing record must be attached to the

highest level

of the hierarchy in the National Product Catalogue. This is almost always the CASE.
Foodstuffs accept only one "LIST_PRICE" price type.
The list price Distribution Method should be "UNS - Unspecified", regardless of whether it is direct-to-store or via distribution-centre.
Every product must have at least one of the GTINs in its item hierarchy flagged as the "Invoice unit".
Price Reason should be set as 'NI – The introduction of a new item' OR 'SC - Size change (Pack or Pallet)' for Foodstuffs.
Submit List Price changes through NPC/Rapid (these should always start on a Monday date, with limited exceptions). You'll then need to complete the Supplier Price Adjustment form in the Foodstuffs eXchange 'Products' section and ensure you submit that form through to FOBL.
All negotiations, discounts, terms, price changes, and any other forms of pricing for existing products are done through Foodstuffs Own Brands Ltd (FOBL) or directly with the Foodstuffs business.
Foodstuffs do not require banner prices, any allowances or trading terms from NPC. Before releasing a price to Foodstuffs NZ ensure it does not have any allowances or terms entered.
Also, transaction prices should not be used for Foodstuffs NZ.
Pricing on NPC is GST exclusive.
Pricing Examples
1) Non Variable Product
Set the 'Price Value' as the list price for a GTIN
Set the 'Start Date/Time' for when the price is valid from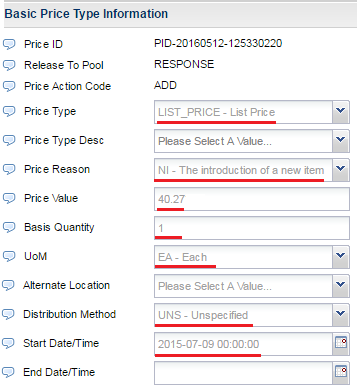 2) Variable Product (by 'KGM – Kilogram')
Set the 'Price Value' as the list price for 1 'KGM – Kilogram'
Set the 'Start Date/Time' for when the price is valid from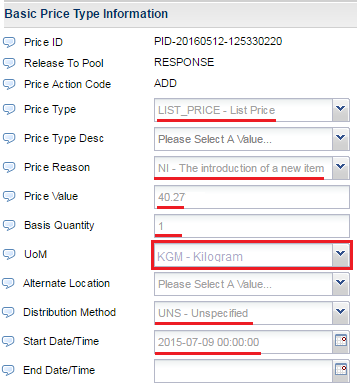 Version 1.1 - Updated 20th January 2021