When entering details of your product on Amazon, one of the fields is External Product ID.
> enter the GTIN in the Product ID field. This is usually a 13-digit number starting with 94.
> the next field has a dropdown with options - eg ASIN, GTIN, EAN, GCID, UPC.
Select
'EAN'
(not 'GTIN')
.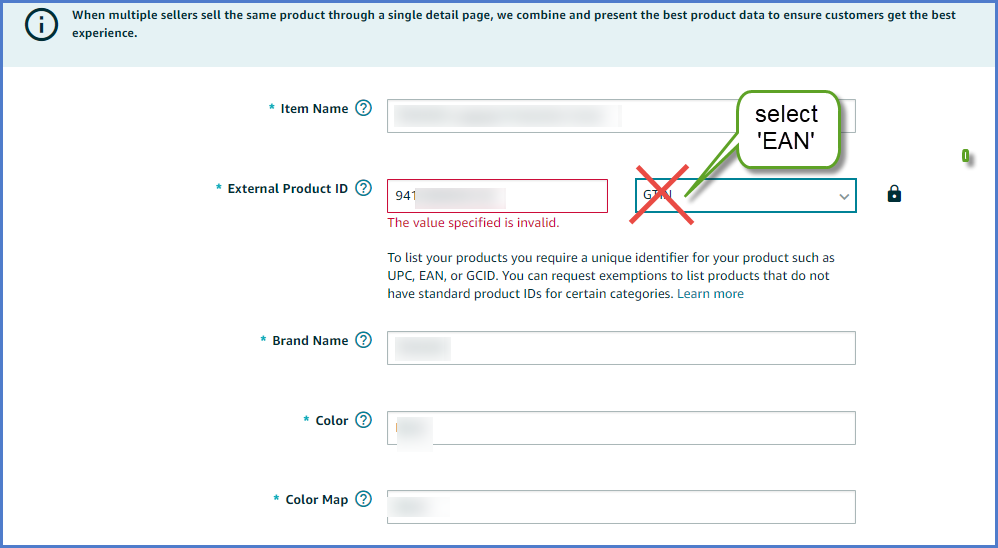 Amazon site messages:
'

The value specified is invalid'
- check the 'EAN' option has been selected.
'The validity of a Product ID is checked against the GS1 GEPIR and ISBN.org databases. If your Product ID is not registered with GS1 the linked ASIN will be suppressed and it may result in removal of your product creation privileges.'
- ensure the number is entered correctly and it has been issued by GS1. It should have 13 digits.
If it has been issued by GS1 NZ it will start with 94 (not 094), and end with the check-digit.
Check the option 'EAN' has been selected.
'We have investigated and found that this UPC/EANs is not vended by GS1. If vended by GS1, please provide relevant proof to validate the UPC/EANs.'
- it appears that Amazon's GS1 DataBase is not considering GS1 in other countries apart from the USA. If your barcode was issued by GS1NZ, you can prove the validity of your barcodes and membership by providing a copy of your Certificate of Good Standing.
On the dashboard of your MyGS1 account, select the orange [Certificate of Good Standing] button (top right). This is a two-page document, the first page shows your licence and the second shows the ownership of the barcode.

'Proof that the legal entity on this certificate is related to your brand'.

- your NZ Business registration.
'When multiple sellers sell the same product through a single detail page, we combine and present the best product data to ensure customers get the best experience.'
- information only
'You are using UPCs, EANs, ISBNs, ASINs or Jan codes that do not match the products you are trying to list. If you believe you have reached this message in error, please contact Seller Support.'
- contact Amazon Seller Support


V 1.5 15 July 2020