When entering details of your product on Amazon, one of the fields is Product ID.
> enter the GTIN in the Product ID field. This is usually a 13-digit number starting with 94.
> the next field has a dropdown with options - eg ASIN, GTIN, EAN, GCID, UPC.
Select
'EAN'

(not 'GTIN')
.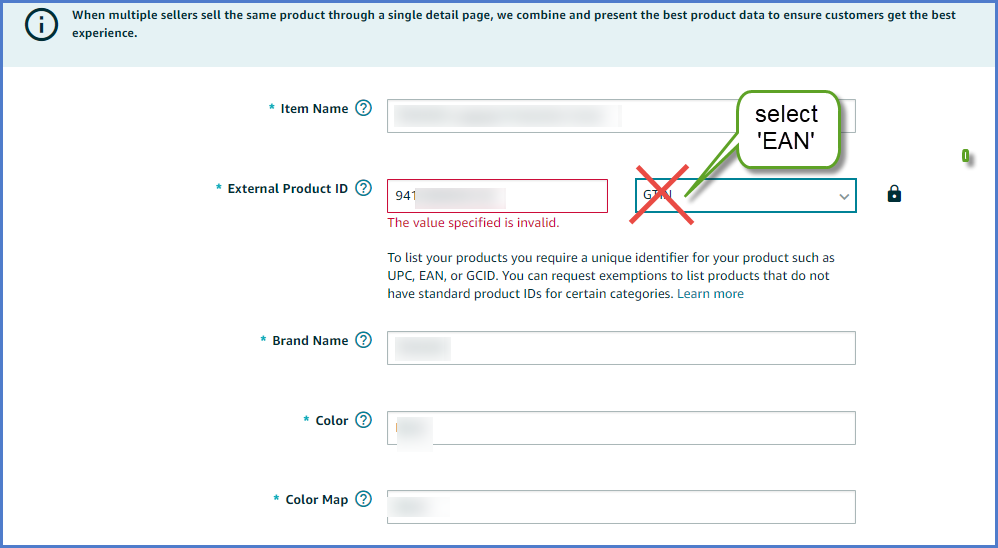 Amazon site messages:
'The value specified is invalid':
- check the 'EAN' option has been selected.
'The validity of a Product ID is checked against the GS1 GEPIR and ISBN.org databases. If your Product ID is not registered with GS1 the linked ASIN will be suppressed and it may result in removal of your product creation privileges.'
- ensure the number is entered correctly and it has been issued by GS1.


'When multiple sellers sell the same product through a single detail page, we combine and present the best product data to ensure customers get the best experience.'
- information only


'You are using UPCs, EANs, ISBNs, ASINs or Jan codes that do not match the products you are trying to list. If you believe you have reached this message in error, please contact Seller Support.'
- (TBA)



V 1.3 19 June 2020